I absolutely love Zendaya. Just her personality in general and the way she carries herself is so sophisticated by itself but, when you add her style…. just wow. I personally have always loved the way she dressed but, she has grown into an amazingly beautiful person.
So these are four of Zendaya's looks that she wears on the street that I think are just fabulous. Frankly, you should see her on the red carpet because this is just what she wears to her meetings about her multi million dollar businesses.
(just kidding)
Basically the first outfit that I love is this cream colored kind of pinkish oversized sweater that she wears as a dress. She simply pairs that with some nude Louboutins. For jewelry she wears two large rows of gold skinny bangles and some thin gold hoop earrings.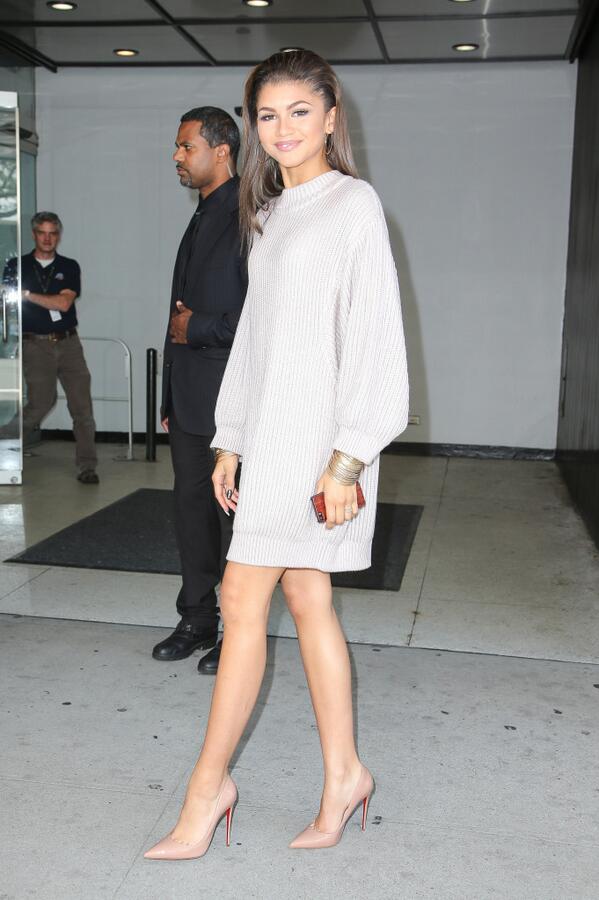 This second outfit is more casual and I personally love it because it shows off her more urban and casual side. To keep her sophistication high she wears some black Louboutins and a simple, lower thigh, light gray dress. To add that urban and casual feel she wears a black bomber jacket (that has the american flag on the arm) and a black and white backpack and she sports some cute cornrows. For accessories she wears her signature thin gold hoop earrings, WERK.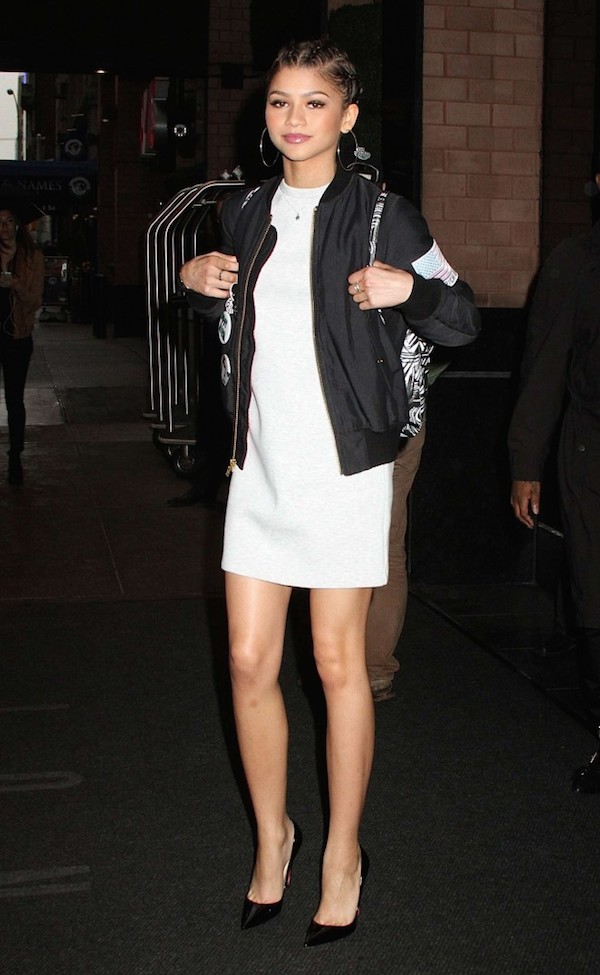 The third outfit is super fun and spring like which is pretty different from her usual minimal style. So this dress is pink and has a kind of abstract print that reminds me of floral print, probably because of the colors. There is simple detailing on the dress with black lines in random places on the dress. Keeping it cute and simple on her feet with her nude Louboutins. For earrings she actually has on studs instead of hoops for once and that is the only jewelry she is wearing.
The very last outfit is so beautiful it may be my favorite one out of all four. She is wearing these amazing white flare trousers that go all the way to the floor. You cannot really see the shirt she is wearing underneath this beautiful white/cream coat so who really cares whats underneath right? On the bottom of the jacket are these black, gray and goldish tree branch looking thing going on, which is just….. I'm speechless this outfit is so simple but it literally speaks volumes. And of course for shoes she wears her nude Louboutins.
Do you enjoy these posts? Should I do more with other celebrities? Tell me your fav celebs that can dress super good that you want featured on my blog!